Purchasing Beach Towel Bulk is Cost-Effective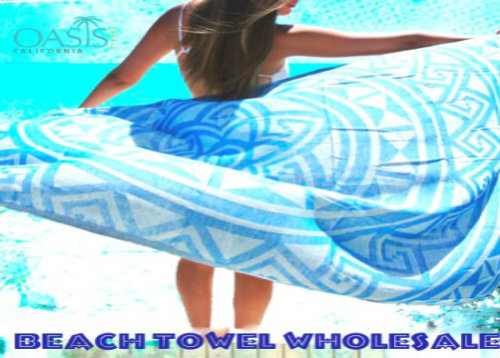 The dimensions of a beach towel can vary widely, but an industry standard appears to be 60 by 30 inches or roughly 152 centimeters by 76 centimeters. This sizing allows many users to use the towel as a cover-up over swimwear, or to sit comfortably on hot sand or wet ground. Because a beach towel is not as plush as a bath sheet, it is less likely to retain loose sand or become waterlogged.
Beach towels or beach towel bulk can usually be found in the linen section of a department store, although they may also be displayed in special sections dedicated to beach-related merchandise. Souvenir stores located on popular beaches may also have customized beach towels available for visitors, either for use on the beach or as mementos of the vacation. Some beach towels from famous beaches around the world are highly coveted in certain circles.
The side that will look most familiar is the one made for drying. It's excellent for H20 removal, but it's less comfortable for sitting on. This surface is comprised of loops designed to wick away water. Run-of-the-mill bathroom towels tend to have more tightly packed loops. People don't really mind if it takes their bath towel 24 hours to dry because it's typically only used once a day. They pick up more water, but their density and weight also make them slower to dry out.
But people drag the beach variety from the pool to the spa to the lawn chair and back again—and they expect their towels to make the trip without devolving into soaking, fetid lumps. So the loops are spread out enough that air can more easily get in and make quick work of drying them.
Manufacturers achieve both of these purposes by lopping off the tops of the loops on this side of the towel. The result is a super comfortable and uniform velour surface (something we can get behind in non-tracksuit form) that is more amenable to printing. Moreover, the sheared off top means less weight.
Looks alone would produce a super-printable, all velour towel that didn't do squat after a dip in the pool. However, on the other side, something that's super efficient at taking on water will never dry, and tends to be hard to print on. So make your best buy from the towel manufacturers.
When you need a lot then buying beach towel bulk is the best option for you as the net costing of the purchase decreases to a greater extent and gives you an extra saving.
In addition, when you are finished rolling around in the sand, don't throw the thing in the wash with fabric softener.