It's Time For The Towels To Make a Statement!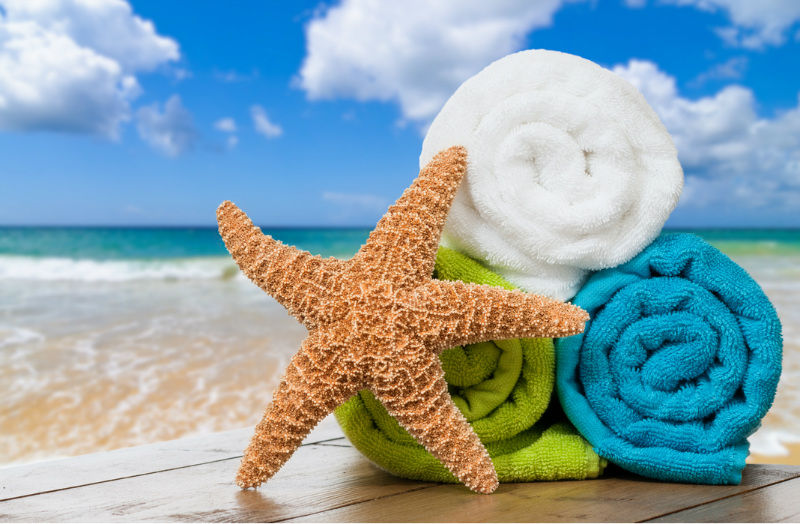 For spending a lazy time at the beach sunbathing, playing beach volley or quietly reading your favorite book, there cannot be any ideal time. Every single season seems just perfect for spending lazing about the beach. Fun, pleasurable and relaxing, that's how we sum up a perfect beach holiday.
However, if you're indeed planning a beach holiday, you must be equipped with few things, like beach towels, mats, sunscreen lotions, etc. which are indeed very necessary for a successful day(s) at beach. Although we tend to give much impetus on other accessories, we generally remain quite oblivious of a few very important products like the beach towel which is just as important accessory/product like a showy tote, cute slippers, colorful mats and yes, a sunscreen.
Listed below are a few very common types of beach towels—
Colorful Beach Towels—
These are one of the best, commonest and safest types of towels that people carry over to beaches. Be it pin-striped, printed or simply solid colored ones, you can never go out of fashion when carrying these around. And, if you are going with your family, you can buy these beach towels wholesale at great discounts. All in all, these are quite an investment for the trend of carrying colorful towels to beaches is ageless!
Quirky Printed Towels—
If you are a gypsy at heart, then quintessential beach towels aren't going to please you much. Hence, specifically for you, the trend to carry quirky printed towels to beaches has hit the red carpet. You can also use custom beach towels if you want to feel indeed very special and stand out in crowd. Simply let the manufacturer you have pinned down to know all your specifications, and they will come up with a towel that you cannot stop admiring. And, if there's an artist within you, then you can get it made from a reputed online supplier and gift your creation, the personalized beach towels to your loved one!
Luxury Towels—
If you simply cannot get over hi-fashion, then having luxury beach towels in your pop-colored beach tote is an absolute necessity. Made from the best fabrics, like jacquard velour and jacquard terry loop, and accentuated with playful yet sober designs and great colors suiting your personality, these beach towels are surely going to grab all the attention. So, be stylish, make a statement and have a great time at the beach with élan.