How to Make Baby Hooded Towels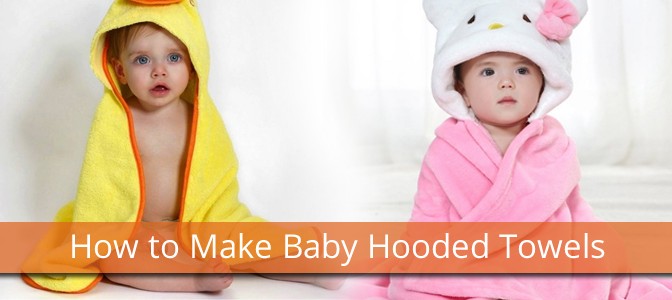 Do you have a little "mischievous" angel at home?
If yes, you must know how difficult to tackle him/her is, especially when they are up for a lovely bath! Yea; mothers know that bathing a kid is half the trouble as compared to drying them up. Anyway, no worries if you're still jostling with your kid in this area for this list feature some easy ways to make hooded towels for your babies.
This would allow them to dry up perfectly in an easy and playful manner—
Get Hold of a Bath Towel, and One Hand Towel
Yes; these are all you need for a making a snug hooded towels. Keep them colorful and richly printed to make your kid look happy and gay. To start with, fold your hand towel into half, and cut it from the middle. Fold the edge, and sew it perfectly. Pin it on like a hood (form a triangular shape by bringing the two edges together), and sew the pieces to give it a proper shape.
Now, Tackle the Bath Towel
Just like the hand towel, fold the bath towel into half, and, instead of cutting it, mark its central portion. For, this is the place where you would have to sew the hood upon. Sew the hood securely to your towel, and tada! That's all about the process of making your kid a lovely hooded towel.
Choose Soft and Light Towels
Making nice baby hooded towels for your kids isn't the only thing that should be on your to-do list. Shopping for the best towels for the same must also be on your check list. Keeping them soft and light will make sure that your baby is absolutely comfortable and snug, and not weighing down under the massive hood.
Make the Hoods Absolutely in Proper Size
Large hoods or smaller hoods are just bad ideas when it comes to babies. While most of you would not prefer a smaller sized hood, many of you may just settle for larger hoods for they look cute on kids. However, let that not be the case for it may hinder your kid's sight, and physically hurt her in numerous ways. So, sew it properly in the right size, and let your kid be comfortable and fine always. You may check for some brilliant towels at the online wholesale stores for bagging the best deals.