Different Types of Towels that You Can Give as Gifts to Your Kids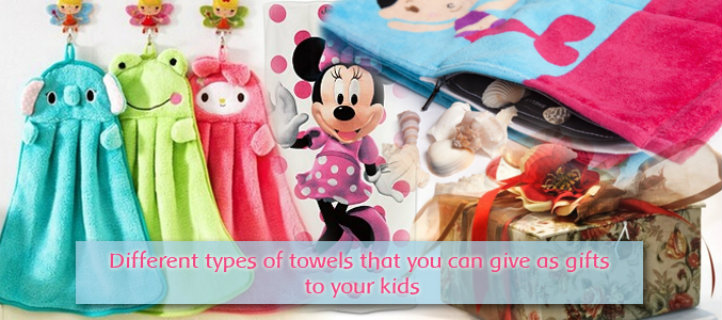 Beach towels for kids
If you are looking to pamper your kids and make them feel good, then a good way to do so would be to gift them with kids beach towels. Small kids are usually playful and they like to have fun in whatever they do. For this reason, they would always prefer towels that are colorful or have funny designs and characters on them. Beach towels for kids are generally adorned with their favorite superhero characters or Disney animations. Other motifs that are frequently seen in children's beach towels include flowers, plants and animal designs. These towels help to fuel their imagination while they are running around in the beach and keep them entertained for hours.
Bath towels for kids
Another type of towel that makes for a great gift for kids is a kids' bath towel. These towels are known for their soft fabric and like the beach towels, they are often adorned with special animations that provide a lot of fun and laughter for your kids. Kids' bath towels are smaller than the bath towels for adults and they may come in both hooded as well as non-hooded variations. Among the types of bath towels that are particularly popular among small kids are those that come with action figures as well as those that are printed in candy hues. You can also opt for personalized bath towels as they allow you to be creative with your baby or child's towel designs.
Hooded towels for kids
Kids' hooded towels have grown in popularity over the years and children simply love to tuck themselves inside one of these. These towels combine the properties of towels and robes, and serve as garments that your children can wear just before and after their bath time. Using a hooded towel simply removes the need to keep your children's clothes in the bathroom from where they might even fall on the wet floor. They also come in exciting designs and patterns which are ideal for fueling the imagination of your kids.
Special features for kids' towels
When you are looking to buy towels for your kids, remember that they have special needs that are different from the adults. Their skin is soft and tender and so the towels that are ideal for them should be made of soft fabrics. There are many children who find it difficult to enjoy their baths, but with the right kind of towels, you can teach them to see bathing as an enjoyable experience that they can really look forward to.