What's Trending in Hotel Towels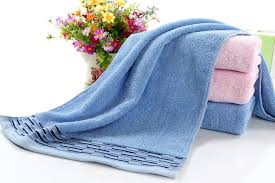 The hospitality industry is at its innovative best a glimpse of which can be noticed in the range of towels that they have been housing at present. Taking a look at these options can drill the fact home that these entities consider their collections of towels as a quick definition to the extent of luxury they are into offering. Hotel towel suppliers at large have also been seen to indulge in serious research dedicated to improving the quality of the latter. Injecting the aspect of 'awe' and exquisiteness in every individual piece so introduced happens to be the current urgency that the manufacturers are seen to deal with.
Bulk hotel towels these days have gone way past the ordinary. The bulk manufacturers of these options have also done their bit in adding exclusivity in all that they manufacture. This has been the most essential driving force that has prompted the hotel industry to ask for way more than just the basics. It all starts with the usage of innovative fibers that bring out the 'environment friendly' side of the entities placing orders for the same. Bamboo towels are one of the many options that happen to be trending these days and that too for the better. Being environment friendly, skin compatible and lasting at the same time, not many hotels have managed to stay away from its charm.
Besides environment friendly and essentially organic materials, wholesale hotel towels are also seen to go minimalistic these days. There is an ongoing trend (and rightfully too) that class and luxury is experienced best when clutter free. Less of colors and lesser of prints is strictly trending these days in the world of hotels and spas. Plain shades of white with classy logo input in the form of embroidery or applique  is circulating in strict preference. Users of these options are more than just loving it, which has been boosting the spirit of the hospitality industry to indulge in more of the same.
In simple words, it can be said with confidence that 'classic' is trending these days in hotels. Minimal yet infused with unsurpassed luxury in every fiber is breaking all records of popularity. By the adding the aspect of cost effectiveness to the deal, wholesalers has managed to create a productive circle of demand for the classic trends that is not expected to break anytime soon or in the distant future.