Sublimated Towels As Gifts – How To Customize Wholesale To Get Optimum Financial Return?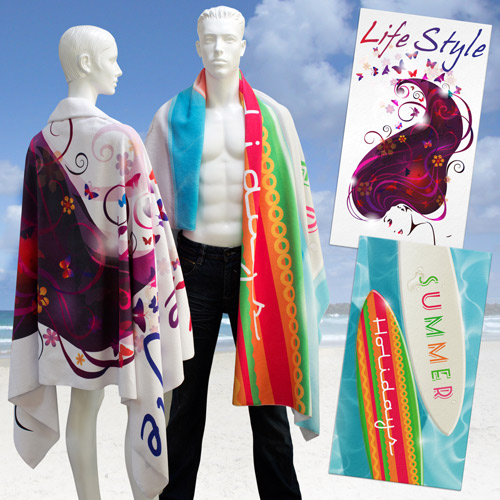 Sublimation has truly been a blessing for clothing industry. This quick, efficient and clean printing process has made several items very gift-able that otherwise wouldn't have been possible. And that item also includes towels. Sublimated towels have already taken over the towel industry. People are not only buying these trendy pieces for themselves, but there are also many people who are gifting them to their friends and relatives.
This shift in the trend has provided the small businesses a golden opportunity to make more revenue. But like the age-old saying goes- 'great the opportunity, greater the responsibility.' The major responsibility for small businesses in this niche is to customize their sublimation towels wholesale thoughtfully to meet the demand of their customers sufficiently.
Personalizing with Efficiency
You- a small business owner- will have to anticipate who your customers will gift your custom sublimated towels and on what occasions. And keeping this in mind, you then, can personalize your bulk.
Occasion-Specific
If any occasion, event or holiday is approaching, you can customize your bulk to complement that particular day. Like for Christmas, the graphic of Christmas tree and Santa Claus would be more appropriate and for New Year, firework imprints would look good. For the approaching Valentines' Day, graphics of teddy bears and cakes would be perfect.
Season-Specific
There are many people who prefer different varieties of towels in different season. So you have to be considerate of that as well. For summer, stick to sublimated blue towels or other light color beach ones, while for winter, go for standard colored microfiber towels.
Person-Specific
Adults and kids have different requirements. So when buying from top sublimated towels supplier you have to consider the needs of both these consumer group. Colorful graphic-filled towels would do wonder with the kids, while for adults, plain and simple custom ones would do just fine.
Anniversaries
Many people buy gifts for birthdays and wedding anniversaries. So you must stock a bulk that complements these special days. A simple monochrome sublimated towel with the text of 'Happy Birthday/Anniversary' or any suitable text can be sufficient. To go more generic, you can customize your wholesale with the graphics of cakes, chocolates and packed gift items.
Customizing in this industry is everything. With the above mentioned pointers and categorization, you can buy the perfect custom sublimated towels to satisfy each of your customers' demands sufficiently and hence make more revenue.