Personal Bath Towels for Kids – Their Its and Bits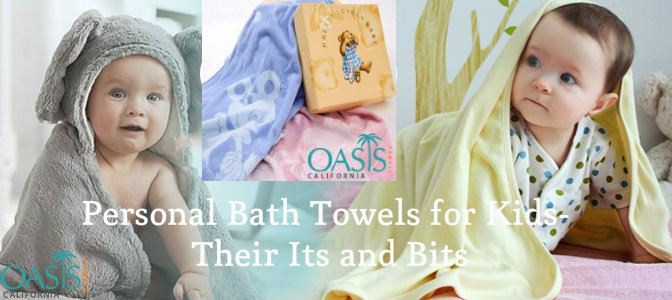 The kids might not be able to make any difference between the quality of towels that wipe off their soaking body, but the grown-ups can. Choosing the right kind of bath towels for kids that soothes their tender skin delicately is just as important as all the other aspects of their life.
With so many personalized items being manufactured to cater different needs of the little ones- right from the elegant beauty or grooming kits to the totally adorable bed and furniture, there are many big manufacturers producing the finest personalized bath towels for kids.
Too Many Choices
Today, a large and wide variety has taken over the good ol' plain and white bath towels. Not only do the adults get heaps of selections to choose from, but there is also plenty of options for the kids.
Type
Hooded and Beach towels are the foremost choice of the parents for their children. There is absolutely no cap on the cuteness scale when a baby sports that hoodie-like towel or flaunts that cute and cosy robe cum beach towel. If only one can count and measure the numbers and exclusivity of onlookers' "Awww…'s"!
Graphics
Disney characters rule the surface of kids' towels. Mickey and Minnie mouse have a prominent place in this area. While Donald Duck and Pluto are not lagging behind either.Every kids love them. And so does many adults.Other pictorial graphics like that of different animals (say alligators) and super heroes (say batman) have their own dominant position. They all have their own charm to discharge the kids into a gleeful and jubilant world.Plus, the best thing about these striking graphics on these towels are that they are sublimated or embroidered. So they are durable and not going to come off after a few wash, as is the case in most of the 'common' towels.Add to these choices, the extent of colour options available to choose from. Blue, green, grey, aqua, salmon, and loads of others- there's just every color!
Because They Deserve the Best
The raw materials that goes in while making personalized bath towels for kids is very decisive when deciding to buy them. Bad materials or the materials that contain chemicals and are badly spun, warped, weaved, bleached, and dyed, with uneven cutting and packaging, has its own impairment.These awful materials, more often than not, give itchiness and red rashes to the babies' sweet, gentle and tender skin. It cause irritation while wiping, and leave what would have been a post-bath fun time for the kids, into moments of crying and yelling- a total agony.
So looking at the material with which the towel of the kids is made up of is the most important part. Cotton or Cotton and polyester is usually the most preferred material that goes in the manufacturing