A New Year Resolution to Have a Healthy 2016 with Organic Cotton Towels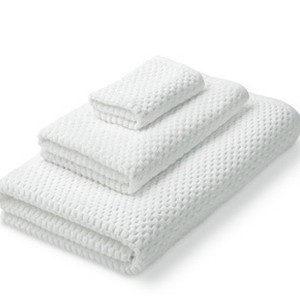 If you are one of those who are very health conscious and promised yourself to make 2016 "The healthiest year of my life", rooting for organic cotton bath towels should rank high in your priority list. Although, on average, one use towels for just 10 minutes everyday, the chemical used in inorganic towels' fabrics cling to our skin and remains their till our next shower session. And it is no secret that chemicals are bad for our skin and health.
Why Chemicals are Used?
A range of chemicals are used in inorganic towels for different purposes. Coloring agents are used to, as the name suggests, color the fabric and make different designs. Perfuming agents are used to keep them smell fresh even after several use and wash. Stabilizing agents are used to keep them crease free. And softening agents are used to keep them soft and cozy.
What's the Deal with Organic Towels Wholesale?
Organic towels are made without using any chemicals; meaning, they are very healthy for you and your family. Plus they are also good for environment. What they are made of?
Cotton
Organic cotton is the foremost choice for all the manufacturers of organic towels USA and Canada.
Bamboo
Bamboo, thanks to their anti-bacterial properties, is another popular choice to make organic beach towels, as well as bath and hotel towels.
Linen
Linen, grown without the use of any fertilizers, is soft and has better absorbing properties. All these make them a no brainer in this industry.
Are they Soft and Stylish?
No chemicals are used into making organic cotton towels wholesale to add to them extra softness, absorbing properties and good essence, but this doesn't mean they are devoid of these properties. There are many natural ingredients that manufacturers use in their products that, more often than not, make organic cotton bath towels better than the inorganic ones.
These same natural ingredients take full care of adding colors and design to the organic towels. Meaning, they are equally stylish and beautiful.
So after all these benefits of organic beach towels and bath towels – soft, cozy, absorbent, and above all – very healthy- you have no reason to still stick to the inorganic ones.