Different Places Where Your Kids Will Need Separate Towels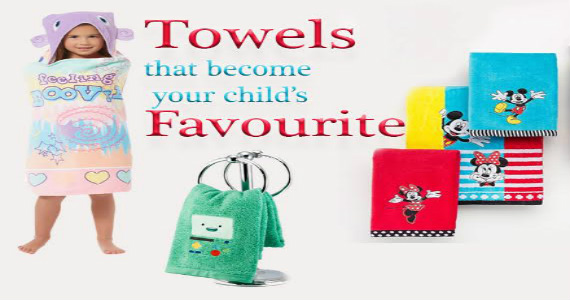 Whether heading out for the beach or staying at house, a towel is such an essential object that you cannot do without. Then why will your children? Today's manufacturers are working with some of the most talented designers to come up with different types of towels for kids, keeping in mind their soft and tender skin. So, parents, the next time you take your baby on a day out to a pool or beach, you must carry her separate beach towel, instead of the regular bathing ones.
Here's why.
Expedition to Sandy Shore
Does your kid love to take a swimming round with you on the waves?
To optimize her fun and experience you must get her some poncho styled kids hooded beach towels. Coming in catchy colors like ocean blue and canary yellow and prints such as beach surroundings and animals they offer better warmth after your daughter comes out of the water while giving a cool style quotient, working as swim suit cover-ups.
First Lessons in Swimming Pool
You must remember the first day that you ventured to a pool for your first swimming lesson and how scared you were that day. Since you would not definitely want that for your son, get him some animal faced hooded towel that he will itch to wrap himself with. Giving him this cushy stuff will not only soak up the excess water from his body but also motivate him to take his lessons every day once he gets his favorite animal or cartoon character in form of a towel.
Staying at a Resort
Kids feel more excited during a summer vacation as they most often they get to go on short trips. Packing some clothes is not enough as they would want to take a dive or two into the swimming pool at the resort for some relief from the scorching heat. Now kids towels are styled in more striking designs. Does your child like frog, lion or owl? You will get them in various animal faces and hoods to make her experience at the resort fun and playful.
Regular Bathing Experience
Most kids make a lot a fuss to take a shower. In this context, a fun towel in personalized designs can make her immediately jump into the tub and take a quick shower just to feel the soft touch of this cushy object while the latter wraps up the body totally to absorb water. Whether your kid likes a certain Chota Bheem, Batman or Tom And Jerry, you can get your kids bath towels customized based on the individual preference of your kids.
Retailers and business owners must scuttle to their trustworthy suppliers to stock up on kids towels wholesale in different colors and designs that can impress their customers.