A Complete Guide to All Types of Towels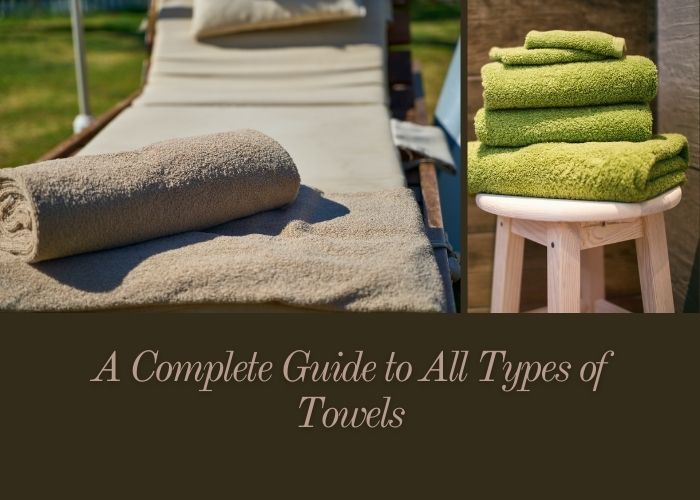 Full Audio Version : A Complete Guide to All Types of Towels
It would be very interesting for you to know that there are multiple varieties of towels currently in production. They all serve different purposes and are made from different materials starting from cotton to terry cloth and microfiber. The textile industry has come a long way indeed, it is clear from the range of new products that are launched along with  every step taken in the field of science and technology. The recent discoveries have been pretty unique and they strive to aid in conserving our mother earth and her natural resources. The production of textiles contributed to global warming as a whole, even the manufacturing processes and disposal processes needed to be checked. Therefore, with these new discoveries and engineered products it is a step forward in making the industry sustainable in near future!
Towels have a variety of uses starting from bathing to wiping faces and drying hands. But they are ultimately used in cleaning purposes of some sort. They aid and assist in the process of wiping, cleaning, drying, soaking and much more! They are available in many sizes, depending upon their purpose of usage and are manufactured in many materials as well.  Not just that, you are bound to find different palettes and shades of color as well! So you can choose the ones that suit your carpet, your curtains or table cloths and bathroom tiles, whatever you find suitable. The globally recognized wholesale bath towels manufacturer has brought about a huge collection of new designs and colors to adorn your home or hotel with! Read on to this blog more to know how many kinds of towels are there and how they are different from each other. Also, there is a list of materials given that are popularly used to produce towels.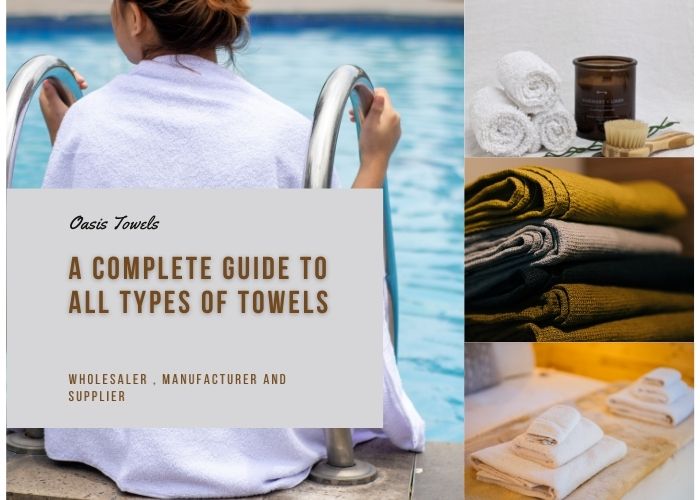 All you need to know about towels
There are mainly seven types of towels available. They are-
1. Bath towels –
These are especially made to soak your body after taking a bath. They are large in size, often ranging from 30*50 inches (more or less). There are bathrobes available as well, that can be worn like a night suit and are instrumental to use after bathing.
2. Gym/sports towels –
These are medium sized towels mainly used by sports persons to clean up after working out or having a practice session. These need to be lightweight for easy carriage and very absorbent so that they can soak the sweat well. There are cooling towels available as well that help in cooling down your body by evaporating and absorbing the heated temperature from your body.
3. Hotel towels –
These are the ones kept in hotel rooms and have multiple uses starting from bathing to washing and cleaning. They are bigger in size and are made of quality materials to satisfy the customer. They can be a bit rougher than face towels.
4. Hand towels –
They are small sized towels used to clean hands or soak wet hands after washing. Generally kept beside basins, in kitchen or bathrooms, they come in very handy while serving guests, quickly drying your hands and easy cleaning. They must be washed regularly to avoid the culmination of bacteria and other germs.
5. Beach/decorative towels –
These are the embellished ones that you can show off on beaches and even in your household. Heading up for a beach party, just carry these huge towels and lay down on the beach to get sun kissed and tanned! They are made to dry your entire body and are available in many beautiful designs and can be customized as well!
6. Face towels –
These are used to soak and clean your face after washing. Kept alongside hand towels, they too are very instrumental in maintaining the hygiene of your household. These are softer than regular towels and are more absorbent of moisture. They are generally available in 12*12 inches size.
7. Salon towels –
These ones are high in quality and are used in salons and spas to serve customers and provide them with the best of the products for studio application. They are soft and cozy as well. They can come in varied sizes and colors. So choose the ones that seem most exotic to you!
Here is a small guide to the types of materials that are used in making towels
1. Terry cloth –
They are made by looping cotton in a certain texture. They are used to make bath and hand towels popularly. Sometimes they can be used to manufacture gym towels as well.
2. Waffle cloth –
They are mostly used in making the rough kitchen towels and mats.
3. Microfiber –
They are highly breathable and thus very absorbent in nature. These are used to produce the best quality towels, sometimes mixing along with other mediums.
4. Linen –
These are very airy and lightweight. They can be used to make sophisticated towels.
Some towel materials are made to be cozy, fluffy and soft. Depending upon the usage, these towels can be manufactured in multiple ways and in multiple colors. There is no end to the permutations and combinations. So, feel free to imagine the best, and you are sure to get delivered of the same products. One of the most renowned cooling towel manufacturers is also invested in securing their title in being the best hotel towel manufacturer as well. If you are a retailer or a private label owner, just go through the catalog and place your bulk order now! Happy shopping!