4 Designs for Towels that are Worthy for the Summer!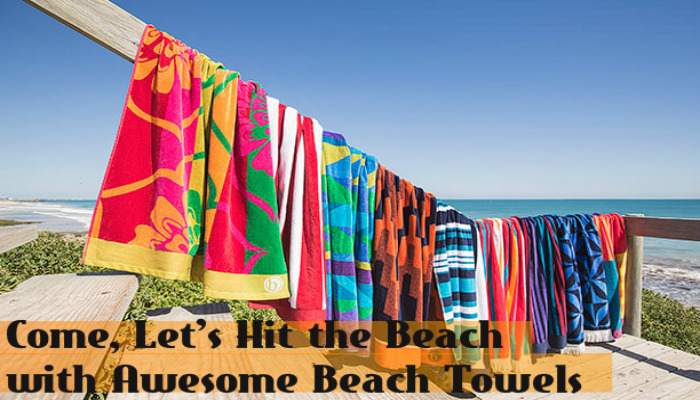 All the experienced beach people know the significance of one fact- the importance of beach towels! The appeal of an attractive beach towel is much appreciated by the enthusiasts who eagerly wait for the summers to come. A perfect blend of form and function is what they all look for. Feeling and looking good when lying down on the sand is essential. Apart from its ability to stop the sand from making you feel coarse and hot, an adorable towel helps you get the cool status quo (which we all want!).
But which print should you pick? Which is the latest texture that is doing its round in the fashion industry?
Highlighting the designs that are anticipated to become big in 2017, here is a detailed list. Read on and find out more about which beach towel you should invest in this year. With a number of reputed beach towel manufacturers having an exclusive range of the products, you can find them online available at affordable rates.
The Hawaiian Obsession
When we come to think of the perfect beach scenario, we always think of the clear blue sky, the sparkling waves, the palm trees and Hawaii! And nothing can be better than lying on a towel that has prints and patterns directly imported from paradise. Brilliant representation of the colours include yellow, green, brown and blue as they provide perfect backdrop to the quirky palm leaves and coconut trees. The tone is strikingly beautiful and mesmerising, which make your beach time fun and exciting.
The Geometric Fixation
A vibrant demonstration of the juxtaposition of wonderful colours and mind-bending figures, geometric designs on beach towels has already become popular with the people ready to visit the beach this year. From rectangles to squares, diagonal lines to circles, the variety is actually enough to impress you. Adorning the eccentric prints is a bunch of vivid colours that draws attention of all the onlookers. The classy finish of the towels makes them a great pick.
The it Slogan
Using of bold slogans on every product that one can widely think of is in high demand. So do not be shy of picking one from this category! Clever and bold typography is a classic beach towel design that has been around for quite sometime. But in the recent times, there has been a surge in their need for they come across as a perfect symbol for modernity that is definitely in sync with the rebellious youth. It offers a plethora of backdrops and slogans to choose from, which only adds to their versatility (and popularity!).
The Round Beach Conference
Rectangular towels are nice and convenient, but designers sitting at the top echelon of fashion houses decided to try something different from the traditions. Hence, the introduction of the circular towels! You need to be worried about not having enough space for the towels are big to fit you and all your belongings with ease. You can stretch and get comfortable with ease. They come in a variety of textures that adds to their nifty design, making them a worthwhile investment for your beach time this year.
So get the towel you like the most, the one which will complement you and let you have a memorable time on the beach (both in terms of functionality and appearance). Prominent beach towel manufacturers have a vast inventory featuring beach towels that can be accessed by retailers who are looking to update their store collection. Discounts are available when a bulk purchase is made.