The Leading Trend of Personalized Luxury Towels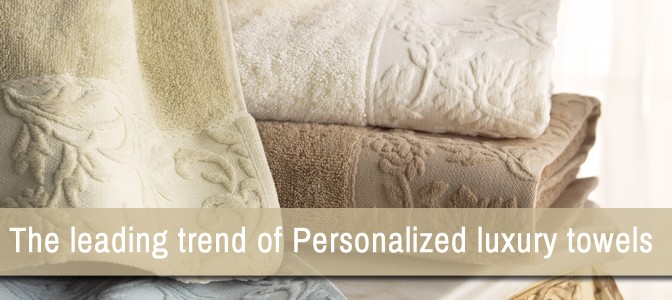 A warm, sunny beach dotted with dozens of colorful beach towels is a beautiful sight, and if they are personalized, they become even more fancy. you will tend to draw more attention with these personalized towels. personalizing own beach towels is better for quick identification, even on days when many other swimmers crowd the beach. Swimmers can use a number of simple and clever ways to personalize beach towels for easy identification.
Choosing the Right Personalized Luxury Towels:
Embroidery
Shoppers can order towels with a name or initials embroidered into them, or they can embroider their design on the towel themselves. Some embroidery machines allow sewers to program custom designs so the machine does the personalization work. Crafters can also hand embroider designs onto towels by using embroidery patterns to create a name or initials.
Custom Printing
Shoppers can order personalized luxury towels with their own custom printing design. Crafters can also find screen printing kits to use at home for creating personalized designs.
Monograms and Names
One easy way to personalize a beach towel with custom printing is to add a monogram or name to the beach towel. A printed design comes on the material of the towel, so swimmers do not have to worry about the quality.
Phrases
In addition to monograms and names, beach goers both adults and kids can add a personalized phrase to their towel. When selecting a phrase, shoppers should choose one that is unique enough that swimmers do not have to worry about another towel including the same phrase. Many manufacturers help in choosing the unique phrase even imprinting your own creative phrase.
Photos
In addition to printed professionalization, shoppers can order towels printed with images of their own photos. When selecting a photo to add to a beach towel, shoppers should consider a photo that coordinates well with the beach. Snapshots of beach vacations or summer activities can add summer style to a personalized beach towel. Shoppers can select photos of themselves, friends, family members, or even landscapes to add to their towel. They can be best for gifting loved ones too.
How to Buy these personalized beach towels
One can find a wide variety of suppliers for personalized luxury towels from the manufacturers and wholesalers or retail hosiery store owners who takes orders for personalized towels. All are reasonably priced. One can also have the advantage of placing the orders online by submitting their unique personalized designs and they will be delivered at their doorstep.