Mat Towels – Necessary Accessories for Daily Usage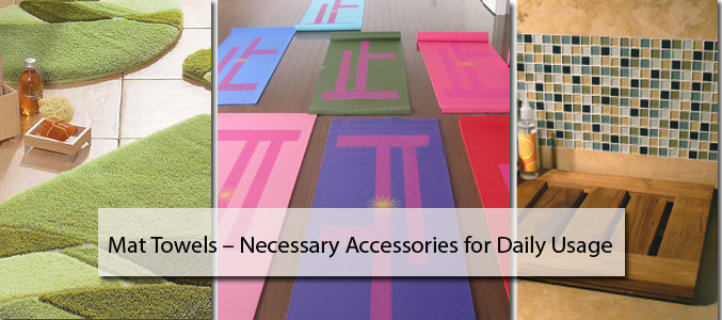 Mat towels are essential accessories that are used for carrying out a wide range of functions. There are different types of mat towels that include both bath and non-bath mat towels. Bath mats are special types of mats that are used in bathrooms for the absorption of water. There are two kinds of bath mats that are widely used; one variety is used inside the bathroom and the other is put just outside the bathroom. Different types of bath mats are in use and here we will take a look at some of them. Cotton Bath Mat Towels
Cotton bath mat towels are immensely popular these days due to the rich fabrics in which they come. These bath mat towels absorb water easily and help to avoid water puddles that might lead to falls and slips. As these mat towels come in a wide range of exciting colors, they also improve the overall decor of your bathroom. Bath mat towels made of cotton are highly preferred by users as they are very soft and quite easy to clean.
Spa Bath Mat Towels
Spa bath mat towels perform the same function as the other types of bath mat towels, except that they are used in spas. They are made of extremely soft materials that feel great to the skin. However, while it is not possible for most people to visit the spa on a daily basis, it is still possible to bring the same level of comfort in your own bathroom. Spa bath mat towels are a great way to pamper yourself and bring the magic of spa right in your own bathroom. They also make for excellent gift items for people whom you love. These towels can truly rejuvenate all your senses and make you feel great after each bath.
Apart from bath mat towels, there are also other forms of mat towels that are used for performing special functions. One of these is the yoga mat towels. So let's have a look at the distinct features of these mat towels.
Yoga Mats Towels
Yoga mat towels are accessories that are used while performing yoga exercises. You can use them while attending yoga classes or when you are practicing yoga at your own home. The main function of these towels is to provide you with cushioning that you will need while performing your yoga routines. They also help you to avoid slipping when you are doing your exercises as this will lead to unwanted injuries. Most of them come with a rubber padding that provides you with the cushioning. You can also find yoga mats towels made of cotton and jute.