In How Many Ways You Can Personalize Your Sports Towels!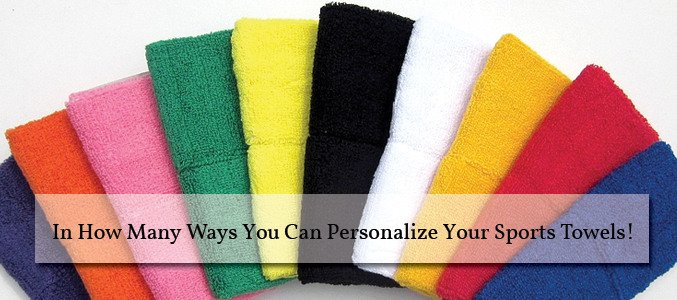 Sports towels are one of those essentials that an athlete requires to keep in his sports kit. Sports activities require rigorous physical movements which leads to sweating and one needs to wipe of the beads of sweats from the forehead to keep himself cool and dry. If you need these sports towels for your team, then you can easily resort to the top-notch manufacturers who design the towels with their utmost expertise. To craft towels for your team, you must personalize them, print your logo and then distribute them among your team members. And the good news is that, now the top manufacturers are offering customization services which will perfectly cater to your individual needs.
So, what do you get to personalize with the help of sports towels manufacturers who are available online with their websites?
The list goes below!
Fix The Right Length
When it comes to personalized sports towels, you need to fix a length, isn't it? Learn whether your players need long bath towels or small hand towels in their sports kits and then place your order. At the inventories of the reputed towel manufacturers you can find various lengths of towels that can suit your requirements. So, just browse into their website and pick what fulfills your needs.
Choose The Print
You certainly want the towels to be embellished with vivacious prints that will keep your team members always enthusiastic about the game, don't you? If you go through the websites of the popular towel manufacturing companies, then you will notice the variety of options in the prints and patterns in their catalog. So, what are you waiting for? Visit their website and choose the pattern that goes with your taste. Your team members will definitely like it.
Upload Your Team Logo
This is the crucial part when you are going for personalized sports towels. Your team sports towels must also carry the identity of your team. The online manufacturers offer you the opportunity to upload your logo at their website when you place your order. Once their expert designers receive your requirements, they will start working on it. And you will get your order delivered in just no time.
Select The Colour
After the choice of your prints, length and team logo, now it is time to pick the colour that will go perfectly with your team's spirit. You will get a wide range of options in colours at the websites of the towel manufacturers. Whether you want a light tone or a darker shade, the choice is completely yours.