How Hotels Should Fold Their Towels To Impress Guests?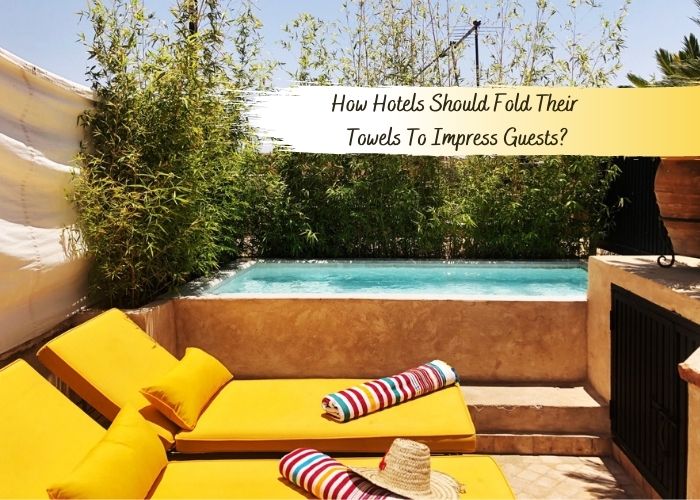 Have you ever thought about what it is about hotel bath towels that make them look so beautiful and snuggly? It might be a fabric softener, but we have a sinking feeling that it's less about the cloth from the hotel towel manufacturers and more about the way the towels are arranged. You're going to have to abandon the towel folding system you've always used and tried one of our simple, space-saving techniques instead. With correct folding methods, bath towels or tata towels stay neatly folded and ready to go anytime you need them.
How to Fold Your Towel
The easiest way to fold your towels relies on how you choose to place or show them, like on a rack, in a cabinet, or around a towel counter. Try one of these folding towel methods and choose the finest one for your style and scope.
Classic Hotel Folding
This technique produces clean margins, making it perfect for piling towels on a bench or open shelf.
Start by placing your bath towel on a smooth surface. Pull one long end to the middle of it. Repeat on the other side of it.
First, roll each short end towards the center of it. Don't think about leaving a void where the ends touch. This will make space for one more shot.
At last, take up one end and spread it over the other, making a nicely folded bath towel. Ease the surface and place the towels in a piled display.
Towel bar folding process
This classic method is ideally adapted for arranging bathroom towels. It leaves towels readily accessible so that you can instantly snatch one and drape it through a towel bar in one smooth movement.
Fold the thirds of your bath towel lengthwise.
Fold in half, then carry the short end to the middle.
Wearing-Reducing Folding Process
Keep your bath towels looking soft with a folding system that helps avoid extra wear. By designing the fold for storing, the possible wear along the crease induced by a towel bar is reduced.
Fold the towel in half lengthwise.
Fold in half the width, bringing the short ends to close.
Fold in half widthwise the last time for a big, flat fold that's conveniently stackable.
Business owners besides towels you can also bulk order face masks from a reliable mask manufacturer at wholesale rates. Order now.