Guide to Choosing the Right Personalized Beach Towels at Cheap Rates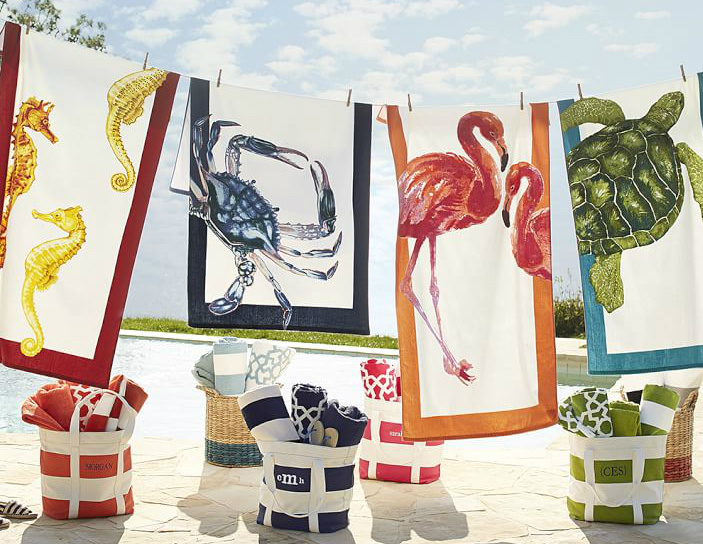 If you are thinking of hitting the beach for a quite time and sunbathing, you must get the perfect beach towel for ultimate comfort and relaxation. If you think you could just take any regular towel and it work, you couldn't be more wrong. Beach towels are specifically designed for beach activities. So they are much more comfy and functional than the regular bath towels. The beach towels come in variety of sizes, shapes, fabrics and colors. When so many choices are presented in front of you, it is bound to feel confused about which one to take.
You can, however, consider the following factors when you are not able to make up your mind:
Size:
When buying a beach towels, you must focus on the size. Beach towels are usually quite long. Though the usual size is 30×60, you may get longer towels. Some of the beach towels are even long enough to cover an entire bed. These towels are also known as beach blankets. So, you need to decide on the size of the towel before you make the purchase. Determine for what purposes your will be using this towel. If you are going for sunbathing, make sure the towel is long enough for you to lie down on it. Some towels may shrink a bit after washing. However, the high quality the luxury beach towels don't have shrinkage related problems.
Weight:
The best way of determining a towel's quality is through its weight. The fabric weight of the towels can tell you a lot about how good the quality is. Though most of the towel manufacturers and retailers won't tell you, but you should know that a towel's value lies in its weight. Towels are often kept in groups of dozens, but you may still be able to figure out the weight of a single one. For example, if a dozen towels weigh about 9.8 lbs, the weight of a single towel from the pack would be less than a pound.
When comparing towels based on weight, make sure you also consider the size of the towel. For example, towels that measure 32×64 usually weigh 10 lbs per dozen. If you find longer towels that weigh the same, be sure that they are of a finer quality. So the size factor is important even when it comes to determining the weight of the towels.
Print quality:
Not all dyes have the same effect on towels, and you need to be able to differentiate print quality to make the perfect purchase. Screen-printing is a popular dyeing method that is used for printing towels. Although screen-printed towels look great at first, their color or print may fade away with time. You should look for fiber reactive dyed towels. The prints on these towels are known to be long lasting despite regular use.