Be Imaginative While You Design Your Personalized Towel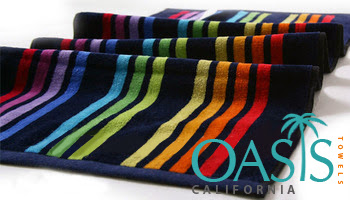 Do you know your beach towel can be the star of attraction while you are holidaying on a beach? Obviously you look appealing in an eye-catching bikini but everything remains incomplete without a beach towel representing your mood and style.
To establish your own fashion statement you must choose a towel that matches with your personality and life style. There are hundreds of designer towels available in the shops and online stores. If you are not happy with them you can always go for personalization.
Wholesale manufacturers and suppliers offer this special service to their customers. You can download an image, a text or a picture to print on your towel or simply create something totally fresh from your mind. It will obviously turn out to be unique and at the same time it will also give you a special satisfaction as it represents your creativity.
While designing personalized towels be as imaginative as possible. Design your towel as you wish. Pick up the colors as you like. Don't think about the current trends. Let it be a spontaneous pattern that stands out among all.
Are you planning to choose a bright design on a light back ground? It will look marvelous! Or if it is a crazy design on a dark background then also it will look outstanding. The main thing is don't be hesitant to express your imagination!
You need not worry about the rules of fashion designing. Anything you like and choose will be just right for you! That should be the concept behind your design.
A beach towel looks simply amazing even with a catchy text on it in a contrasting color combination.
But it should look fashionable and represent a mood that speaks about holiday, fun and leisure!
So if you have a creative mind immediately start designing your own towel, a fascinating creation to sit on and rest your body on it while you tan yourself in a lovely beach!