Attributes You Must Focus Upon While Ordering Custom Sports Towels In Bulk

Playing a certain sport or training for it is inherently accompanied with perspiration. Be itfootball, baseball, rugby, tennis or anything else for that matter, by the end of the session, the players seem to get swallowed in their own sweat. Towels thus, form an integral part in the kits of all sports people, because these are the only inputs that play a role in keeping them fresh through the rigors of playing and thereafter.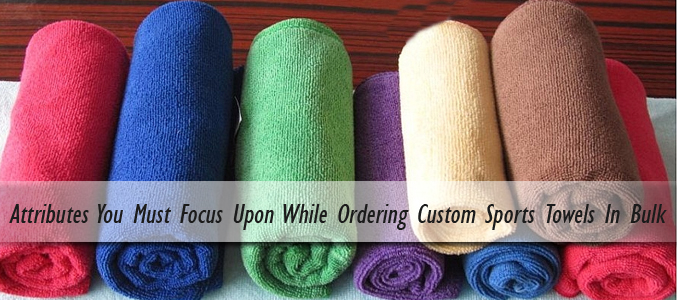 Considering the fact that summer is here and the seasons of sports is on with full force, sellersof sports clothing and accessories are finding it in their favor to stock up on custom sports towels to be able to cater to the interests of a wider range of buyers. However, what matters here is not passing any and every towel as sports towels because at the end of the day,
inconvenience in the usage will lead to loss in traffic to the concerned store and resultant profits.In this respect, here are a few crucial attributes that should be considered thoroughly while ordering bulk custom sports towels…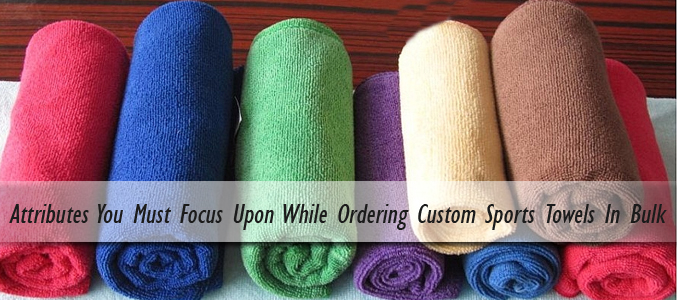 Light Weight Fabric
It is imperative to ensure that the fabric of any sports towel per se, whether custom or regular, is light weight. This makes carrying the options in kits very easy and using it equally easier.
Right Choice of Materials
When you are availing anything 'custom' you will have the option of choosing just about everything ranging from the styles and designs to the fabric and materials. While styles and designs may be the cause of lesser worries, it is the matter of choosing the right materials for the towels that can result in making some serious differences in the popularity of your products.
Basically, the materials should be highly absorbent and soft on the skin. At the same time, the fibers should not lose these attributes after being exposed to regular maintenance procedures. If you as a buyer of bulk custom sports towels don't have a
clear idea about how to go about the process of choosing the right materials, you can seek guidance from the manufacturers themselves.
The Aspect of Sturdy Prints
Most custom made towels for sports purposes are designed with sublimated printing which are usually sturdy enough to last through rough and regular usage. However, at times when quality of prints is not up to the mark they can chip and fade. While choosing the custom towels, it is necessary to determine the print quality before vouching for it.