6 Guidelines to Give Your Towel a Longer and Better Life!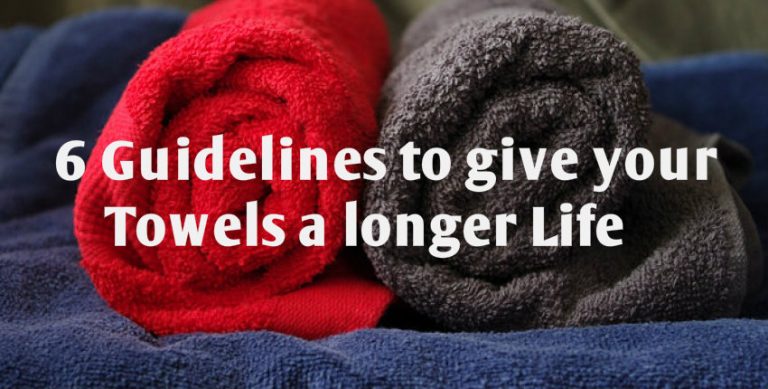 Would you not like to own a towel that does not rip off after a few months' use?
With the introduction of latest technology that is used to construct the best towels by reputed towel manufacturers, there is a possibility that you might.
But sometimes it is the way we use it that reduces a towel's life span. Even the greatest of them fall prey to the rough handling that they face in our hands, daily.
Towels are ubiquitous and are taken for granted by all of us. But to help maximize their features and the numerous benefits that they offer, here is a detailed list on how you can actually care for them (just like you care for all of your clothing items).
The list is comprehensive that primarily focuses how you can enhance the durability of the essential item.
Read on and find out more on towel care.
Wash them with Utmost Care
Any item that is made of fabric should be washed with care! This is the ground rule that is applicable to all. When it comes to something as delicate as a towel, with all its weaving and intricate knots, wash them after every third use. Do not put them in the machine with any other clothes that comes with zipper or hooks for that might lead to tear. Also, refrain from rubbing them very hard with soap for the short fibres have an affinity to become loose, ultimately leading to their sad expiry.
Drying Towels is more than just
Hanging in the washroom after every use of your towel, whether you are using to dry them off or just washing them, give them a good shake for that will fluff the material and get rid of the excess moist. Do not wring them for that again will loosen up the fibres with which it is composed. To give your towel a long lasting life, make sure that you dry them off completely before hanging them.
Hang Them where They will Dry
Following the previous step, and once your towel is dry; hang them in a proper place to dry off. Stashing a damp towel on the floor or on a chair is only going to encourage the growth of mildews and mold that reduces their endurance. You certainly do not want that! Hanging them on a flat surface helps them dry off quickly and completely.
Fold them in Proper Way
To get a vibe that is at par with the wonderfully smelling towels found in hotels, there is a process on how to fold them, correctly. First lay them on a flat surface and smooth out all the wrinkles. (Nobody likes wrinkles!) Then fold them along their lengths in thirds. Further fold them along the breadth in half, so that the end result imitates a square. Repeat this every time you use a towel and see them enjoy an extensive life.
Store them in the Right Place
After folding them in a perfect square, stack the towel in your linen closet. Make sure that the closet is organised and the shelves are not overloaded for that will lead to creases and even the growth of bacteria. Maybe tuck in a bag of lavender in the closet to give the towels a fresh smell every time you use them.
Replace when Required
Towels equal work horses. They undergo daily use, as a result of which wear and tear is very common. It is inexorable that they will eventually give up and look exhausted. When they do so, take the hint and change them. Also, as their prolonged existence decreases, there is a high chance that they will start harvesting bacteria. So to avoid falling sick, change your linen every two years. This is good for you, good for them!
So till the towels survive, give them a good life by taking care of them, and show them you care too! A number of prominent towel manufacturers have the best of towels contrived. They come in a variety of colors and shades, which adds volume to their overall smart design. Retailers can buy them in bulk at discounted prices!