5 Improvements You Can Expect From Sublimated Towel Manufacturers in 2015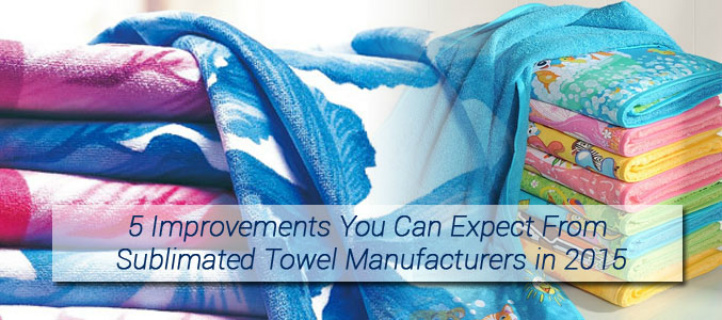 There is a common belief that 'perfection' cannot be improved upon. However, when it comes to the ever ingenious sublimated towel manufacturers, introducing innovation happens to be an everyday business. The impetus comes from the brimming hospitality industry that cannot seem to settle with the so-called best and need something even better, newer and fresher that world is yet to experience. And can they really be blamed for such heightened ambitions
when people themselves expect a difference in their bath experience every passing season?
Keeping in mind, the ever growing expectations of users of towels in general, here are 5 improvements that the manufacturers of sublimated towels can be expected to show this 2015…
Improvement in Fabric quality
Improvement in fabric quality in terms of uncompromised softness and absorbency still remains the priority of the sublimated towel manufacturers. Introduction of more technologically enhanced fabrics, after years and years of research can be named as the reason behind such improvements.
Improvement in designs
There was a time when the art of sublimation had its share of limitations especially with respect to the surface material where it was being applied. At the same time, the range of colors and background limitations had also existed, limiting the scope of this form of unchallenged printing.
However, this is all a story of the past because the manufacturers of sublimated towels have cracked the codes of employing the technique almost perfectly. So, you can now expect a plethora of eye catching designs in a plethora of towel types just about anywhere across the globe.
Quick cleaning and disinfecting benefits
This is one of those qualities that are critical mainly for bath towels, spa and gym towels. Excessive exposure to maintenance processes can claim the softness and newness of the towels. The agenda of offering a boost to the durability of the materials while offering quick cleaning and disinfecting benefits thus features in the agenda of the sublimated towel manufacturers in 2015.
Specialized functions
The scope of sublimated towels is going to spread to include just about any field of usage be it for beaches, gyms, sports, spas, home, bath, kitchen or anything for that matter. So, for those looking forward to uplifting their style quotient whether in bathrooms, beaches or kitchens, this is the right time to shop for sublimated towels from quality manufacturers.
Cost
This is the feature that is sure to add glee to buyers of sublimated towels. Improvement in technology as far as cost effective fabrics and manufacturing processes in concerned, costs can be expected to get relaxed even further. Be it the introduction of quality budget range options or through discounts and rebates, the manufacturers are here to make your purchase a joyous experience.