What Distinguishes A Bath Towel As A Luxurious Item?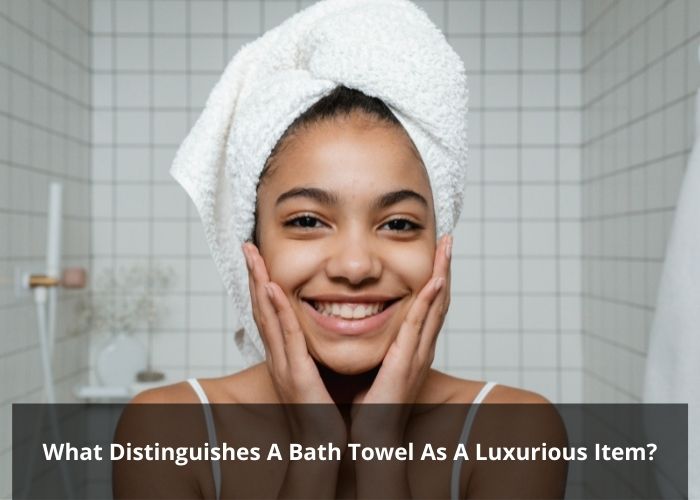 Full Audio Version : What Distinguishes A Bath Towel As A Luxurious Item?
The method by which a bath towel is created influences its quality. To evaluate whether a bath towel is a luxury bath towel or not, look at the fabric and structure utilized to produce it.
The majority of bath towels are composed of cotton or a cotton mix. Pima cotton, Turkish cotton, and Egyptian cotton are the most widely used luxury textiles. Both Turkish cotton and Egyptian cotton feature extra-long filaments. This provides them an attractive soft touch while also making them absorbent, breathable, and long-lasting. The only difference between these two materials is that Egyptian cotton absorbs a bit more. Supima cotton towels, often known as Pima cotton towels by their brand name, are extremely similar to Egyptian cotton towels. Because of their lengthy strands, they are absorbent and ultra-soft. They are derived from the same plant as Egyptian cotton but are farmed only in the United States. Bath towels are either ring-spun cotton or combed cotton in their manufacturing. Cotton towels that have been combed to eliminate any impurities or short strands from the yarn are known as combed cotton towels. The fabric is fluffy and incredibly durable as a result of this production technique, but it isn't always as luxuriously soft to the touch as you'd like. Ring-spun cotton, on the other hand, binds long- and short threads together to create a softer, finer, and smoother fabric.
Look
Bath towels are useful, but who says these linens can't also be fashionable? Not us! Luxury towels wholesale should not only transform your monotonous morning shower into a delightful wakeup call or gently lull you off to sleep after a long day, but it must also look as nice as it feels. Luxury bath towels may make you feel as though you're vacationing at a five-star resort. You should choose a design that complements your taste, but if you truly want to achieve a luxurious impression, we recommend purchasing white towel sets. Matching white washcloths, hand towels, and bath towels look great in any bathroom and provide a luxury hotel-chic touch. You may also use striped towels or monogrammed towels to give your bathroom a more sophisticated luxury vibe. Embroidering your initials on a towel is an easy way to add a touch of beauty to any bathroom.
Size of a towel
Have you ever felt that you were drying off with a hand towel rather than a bath towel after getting out of the shower? It's the absolute worst! In addition to a thick, absorbent towel, you should use a towel that fully drapes around your body. Bath towels are normally 27-30 inches broad by 52-58 inches long. Bath sheets are larger and consequently more sumptuous, measuring between 35 and 45 inches broad by 60 and 70 inches long. It's especially crucial to give heed to what size towel you're ordering when shopping online because you can't see and lift it.
Weight
Towels typically weigh between 300 and 900 grams per square meter (GSM). Towels weighing 400-600 GSM are considered normal, medium-weight towels. This is the weight category in which most beach and bath towels fall. Towels weighing more than 600 GSM are classified as luxury because they are the softest and most absorbent. The greater the number (GSM), the heavier the towel. This means they take time to dry and are more costly, but these are the only disadvantages.
Absorbency
You won't know how absorbent a bath towel is until you use it. However, two factors might help you determine how absorbent a towel will be: materials and weight. Lightweight, lightweight towels are incapable of absorbing as much water. Towels that are heavy and thick absorb more water. Bath towel sets consisting of Pima or Egyptian cotton, as well as cotton-rayon mixes, are often more absorbent.
Feel
Do you wrap yourself in a rough bath towel as you come out of the shower? No! At the very least, we hope you don't. When you get out of the shower, use a fluffy, soft bath towel to dry off. You should feel just as peaceful, at ease, and warm as you were in the bathtub or shower.
Lightweight towels might feel scratchy, almost like sluxuryluxuryandpaper while drying off. Medium-weight towels are nice and soft, but heavier towels will make you feel like you're in the spa. These are the ultra-plush towels you've been dreaming of!
The correct bath towels from a reputed towel manufacturing company must pamper you and transform your bathroom into a personal hideaway. That is just what luxurious bath towels can accomplish for you.
Business owners and retailers if you are thinking of adding luxury towels to your store's accessories collection then talk to a manufacturer for the same. You can also expand your store's existing stock by sourcing bulk wholesale products from popular sports towel manufacturers at an amazing bulk rate.