Understanding Towels: A Brief History of Towels and The Types Available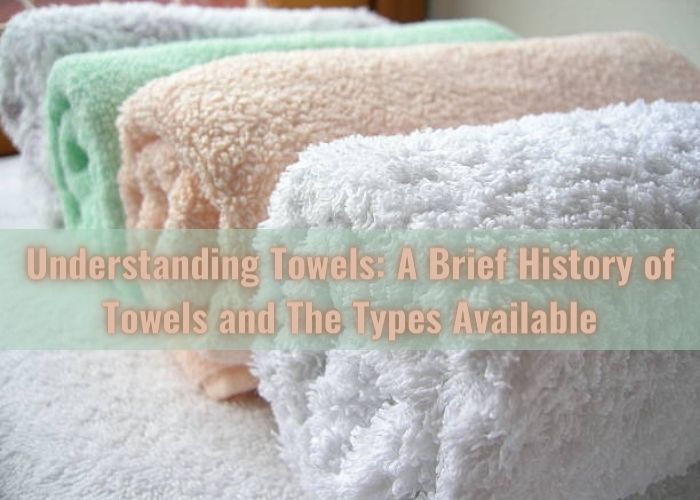 Full Audio Version: Understanding Towels: A Brief History of Towels and The Types Available
Take one moment off of your life and read on. We take towels for granted. We know that they are functional in their basic form and are extremely utilitarian in their use. But we still take them for granted. Do you know that 25th May is commemorated as the National Towel day? Have you ever invested a little thought on their inception? Or maybe their journey to the modern day?
Today, we are totally going to focus on the history of towels and their types that we use commonly.
A Peek into the History of Towels
To define towel, it is an absorbent piece of fabric that is used to either dry off the body after a shower or wipe a surface to clean it. Towels originated in 17th century Turkey, precisely during the Ottoman Empire. They were essentially made of Turkish cotton and were used by the brides during the nuptial ceremonies. They, in fact, reflected the power and status one held in the society. They were flat and embroidered, often being referred to as the pestamel.
As the Ottoman Empire grew, the use of towels also increased with that. They were seen in Turkish baths to dry the body after taking a long, relaxing steam bath. Towels became popular for their soaking quality. They were light in weight which made their use easy.
Their initial designs featured as a narrow cloth stripe, which with time became broad enough to cover the entire body. The more influential the family was the more elaborate and embellished the towel was. Expensive gold and silver adornments were frequently hand crafted on the towels that were used by the female members of the family.
It was only during the 19th century that towels were made available to the general public. With industrialization affecting the world in almost all aspects, their price fell and became economical. This helped the general public buy them from shops.
Author Douglas Adams mentioned in his book, 'The Hitchhiker's Guide to the Galaxy' that a towel is "the most massively useful thing an interstellar hitchhiker can have". We do understand the significance now!
The Different Kinds which We Use Commonly
With the advancement in technology, towels have come a long way. They are now available in different shapes and sizes and used for a variety of work. So here is a list that highlights the 3 kinds we frequently use.
The most commonly used towel that meets the basic requirement of most human beings, bath towels are rectangular in shape and pretty big in size. They are usually crafted from 100% cotton that ensures to lend a soft touch to the skin. They are very comprehensive in their design and durable in their nature. Bath towels are extremely light in weight and absorb water quickly which adds to their effectiveness. They are available in an array of shades that perfectly complement the décor of your washroom.
Beach Towels
As the name suggests, beach towels are usually carried outdoors particularly to the beach on a sunny Sunday morning. They are usually made from the blend of cotton and polyester that ensures to give them a smooth finish. The fact that they can be used by anyone and everyone is what makes their availability in different shapes and sizes. They come in a number of textures and patterns that complement their overall design. They will surely make your beach time cheekier and amusing.
Hand Towels
Hand towels are smaller than bath towels and are usually used to dry off the hands after cleaning them or washing them. Their primary focus is to be great water absorbent and thus crafted from a blend of fabrics. Their contemporary design is further accentuated by the use of pretty colors and adorable prints. They surely enhance the décor of the washroom they are placed in.
To conclude, it can be said that towels are more important than we consider them to be. They have been a great companion for centuries now. They tolerate all atrocities without complaining! Hence, having a great towel is of considerable significance to us. Prominent towel manufacturers have gathered a vast number of towels for all the retailers who are looking to update their store collection by making a bulk purchase. Just click online and register to secure attractive discounts.
Recommended for You:
With its years of experience, cutting-edge manufacturing facilities and a team of dynamic in-house designers, Oasis Towels has emerged as one of the market leaders in designing, manufacturing and supplying towels in all sizes, colors and prints in bulk across the globe.