Turkish Towels and the 3 prints that will Up the Style Quotient of your Bathroom!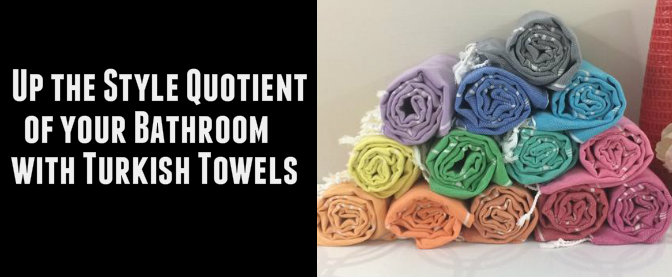 One of the least discussed products yet it surpasses in our daily needs. Yes, the reference is to towels! We use them every day but give very less thought to it. So today, the article is concentrated on towels, particularly Turkish towels and the different prints on them which add to their beauty.
To begin with, towels were first invented in Turkey, during the Ottoman Empire when they were just a piece of cloth used to dry the body after a shower. The earliest specimens of towels were actually embellished and were used by the royal people. They were symbolic of a person's status and were rarely used by the common people. With time, precisely, the 19th century, cheaper versions were made available in markets in the western world. Since then they have been around, without any complaints, serving us, like a perfect subservient.
Turkish towels or commonly known as pestemal,  is hand woven from Turkish cotton or silk. They are also known as hamam towels and have a soft finish and are light in weight. The significant quality of a Turkish towel is that they feature intricate designs, which lends them a fine finish and adds to their overall design. They come in a variety of colours and prints, but there are three patterns, which only adds to their adornment and makes them a must-have. Read the list and find out more.
The Striped Wonder
Stripes are smart. And when they are juxtaposed with the best towels in the world, they are look marvellous. The traditional hand-woven towels in stripes only elevate the ambience of your bathroom. From the simple stripes to the bold ones, there is a plethora of designs available. The multi-coloured ones can also be carried to the beach which will add to your style statement. The striped towels which have white as the backdrop look extremely stylish and complement the decor of your washroom be it modern or eclectic.
The Honey Comb Paradox
There is a reason for referring to honeycomb as a paradox. They are hundreds of hexagons placed against each other only to create an illusion of a honeycomb. They are beautiful to look at, no matter whatever the irony is.  These Turkish towels wholesale are pristine and plush. Since they come in an array of shades, they will make a great addition to your towel collection. They lend a soft touch against the skin owing to their superior quality make which types them perfect for the after bath drying spell. They are also good absorbents adding to their utilitarian qualities.
The Solid Panache
The softness of the pestemal is such that it makes us want to cuddle in it all day. And when they are solid hues, it is a win-win situation. Featuring Turkish towels, the colour spectrum is wide and varied.  While some come in bright and vivid shades of pink, red and orange, some of them are available in subtle and sophisticated palette of navy, pastel and white. They all add volumes to the place they are kept. So do not be surprised if you get the urge of wrapping the soft bundle of colour around your armchair when resting. Nobody is judging! *wink wink*
So add a hamam to your bathroom and feel like spa day every day. Turkish towels wholesale are available with reputed manufacturers. If you are planning to make a bulk purchase, then you can check their inventory for a plethora of choices. Discounts are also available for small business owners.