Top 8 Factors to Consider While Buying Kid's Bath Towels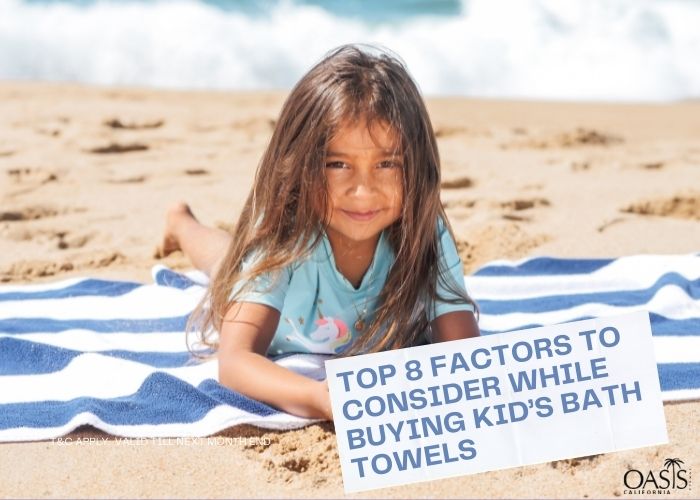 Are you a business owner on the search for kid's towels in UK? Then, you must immediately get in touch with a reputed towel manufacturer UK to bulk purchase high-quality wholesale kids towels that are carefully crafted for the protection and good feel of your little cherubs.
Excellent absorbency rate
The first thing you must ensure is that your kid's towel is made with a quick-absorbing fabric. High absorbency rate is a must-have to keep children dry and fresh. Make sure to buy 100% cotton towels, towels composed of terry weave cotton or any other towel that's made from highly absorbent fabrics to soak up water easily.
Rapid drying rate
It's natural to get swayed by the style of towels when you're buying it for kids but remember, quick-drying towels should be the main style for your kids. If the towel you select doesn't dry speedily, it'll produce odor with time and irritate little ones. Apart from softness and absorbency, it is the drying rate that defines the real luxury of bathing towels.
Lightness
Bath towels should not turn out to be a burden for kids. Kid's bathing wraps made from terry cotton are usually soft and light. Lightweight bath towels are easy to carry around irrespective of size. Look for light colorful towels to brighten up your kid's world.
Softness
It can be challenging to determine fabric softness for kid's towels online. Those that have softeners applied on their finish tend to have reduced soft feel after a few washes along with a decrease in absorbency rate. Search for towels made with cotton or any ultra soft fabric for a worry-free usage on the tender skin of your kids.
Grams per square meter
Grams per square meter or GSM measures the density of a bathing towel. Choose a soft, well-absorbent and quick-drying bathing towel for children that has GSM between 420 to 600. Such lightweight towels are ideal to offer the best luxury for your little munchkin when used as a beach or bath towel.
Longevity
It's not wise to invest in a towel that doesn't last long. Durability is as important a factor as is absorbency for a kid's bathing towel. Usually, 2-ply towels are stronger than 1-ply ones. You must assess the long-lasting potential of a towel before buying it.
Purpose fulfilment
Are you looking for a towel for usage by your little angles in the pool or for camping? Then, you must look for a wide and long towel that wraps them up completely. A supreme quick-dry cotton fabric is perfect for children to enjoy the pool.
Design
When it comes to towels for kids, the final factors to note after determining softness, warmth and luxury are the vibrant colors and designs. Choose a towel having all essential features which is exclusively printed with striking designs to make it stand out as a kid's delightful daily-use item. 
As a retailer, willing to update your towel stock, you must check out the massive catalog of a celebrated towel manufacturer, also famous as a Turkish towel supplier. Such a reliable manufacture will provide you eye-catching bathing towels for young ones that are soft, hygienic, absorbent, light, durable and covers all other necessary features.
Full Audio Version: Top 8 Factors to Consider While Buying Kid's Bath Towels