The Top 5 Reasons to Love the High Quality Turkish Towels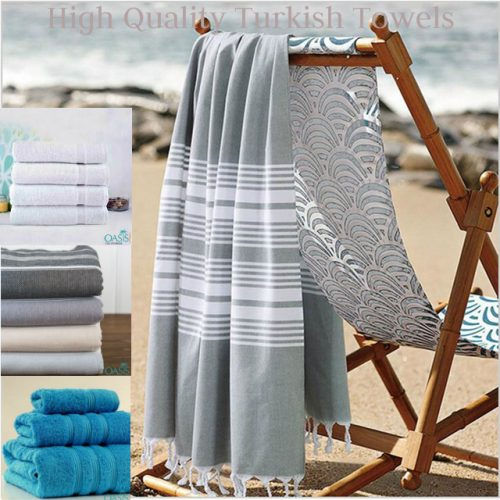 The Turkish towels are one of the best investments owing to the posh quality and texture they define. They are quite luxurious and used for special occasions, encompassing the oh-so-soft feel and versatility. These towels are made of lightweight cotton material that provides the most soothing and comfortable post shower experience. They are expensive but are worth your investment.
Here are some reasons that would make you fall in love with the Turkish towels crafted by the leading Turkish towel manufacturers.
Eco- friendly
The Turkish towels are made from sustainable and organic cotton materials and colored with organic dyes, too. Thus, they are eco-friendly in nature. Also, while washing them in the machine, they use less amount of water and hence save a lot of water from getting wasted, too.
Extremely lightweight in nature
They are ideal travel companions for being so lightweight and compact.  They are thin in texture, and come in different sizes.  Thus, you can fold them in different ways to pack in the suitcases and bags, and carry them for vacations.
They dry up quickly
The Turkish cotton towels are super quick to dry after washing them, or using them for bathing.  It takes 20 to 30 minutes under the sun or amidst the wind to dry them up, and hence they are very convenient to use. They don't stay damp and moist for a longer time span.
Extremely versatile
The Turkish towels are not only the best choice as bath or beach towels, but also come to different other daily life uses. From being used as baby blanket to worn as a sarong, picnic blanket or table cloth, these high-quality and extravagant Turkish cotton towels come to different uses that might amaze you for their versatility.
They get softer with time
The more you use them and wash them by hands or in the machine in the correct procedure, they become softer with time and multiple washes or uses. You just have to know the right technique to maintain them so that they can become better in quality and texture.
The fashionable and colourful aspects
Whether you use them in the hand towel wholesale version or bath towel version, the Turkish towels are fashionable and come in different decorative stances. The sleek and modern stripes or the bright florals and other patterns are embossed on these towels, and the designers make sure to add innovativeness to the look of these cushy accessories.