Tips to Decorate your Bathroom with Wholesale Bath Towels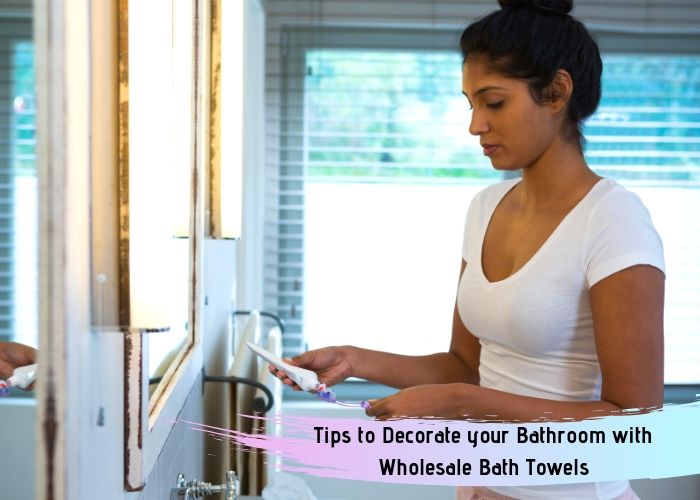 Have you ever thought that  your Home Decor is completely Incomplete without the Right Bathroom Designing?
When it comes to  sprucing up the look of your bathroom, apart from the theme and color, the other thing which matters and can actually lend  a poised demeanor is the use of right bath towels.  Gone are those days , when towels were only used to get a an amazing after shower experience, as now they have a lot to do with adding a touch of beauty to your overall home decor theme.

Just like curtains, bath towels form the main requisites when it comes to adding some balance to the overall look of the bathroom. Thus, a complete fusion of fashion and functionality as they happen to be,  it is important to put them wisely and creatively at the bathroom, be it according to the color scheme or the theme of the home decor.
Wondering on some tips to get this whole thing of wholesale bath towels  decoration right? Here you go!
Overall Look
First and foremost , the main requisite is to ponder on the overall look of the bathroom which you would like to have.  There are home owners who want to have a theme in the bathroom, be it the soothing graceful ones, or something funky as a beach , and for this you can choose the right prints for the towels . On the other side, another section of people love to  keep a complete balance of colors, and match the towels in contrast to the color of the walls. Thus, deciding on the overall look and appearance of the bathroom is important to get things right.
Type of Bath Towel to be  Used
Now, once you have decided on the theme or color which would matter to buy them, the next important thing to consider is the selection of the right type of bath towel. Would you like it plain and single colored? Or something in duo tone? Also, there are people who like to bank on the stripes, checks and the prints , be it in florals or the photographic representations of characters from here and there.    The new range of towels today come adorned with lace, embroidery, ribbons, tassles, and hence it is up to you on which one you would choose.
Ways to Place them Creatively
There are an array of ways to decorate the towels at the bathroom,  from the simple towel rack, or  hanging at the hook. Also, today the innovative manner of stacking them is keeping them at the basket , with different colored towels kept  in order.  For a change, you can keep soaps on them to add a classy touch to the overall ensemble.
Thus, with a wide array of bath towels available in the market today, you can get the desired designs at home bathroom quite easily.
Recommended For You: 5 Bath Towel Ideas for Your Kids