The Medley of Wholesale Bath Towels Which can be Splurged On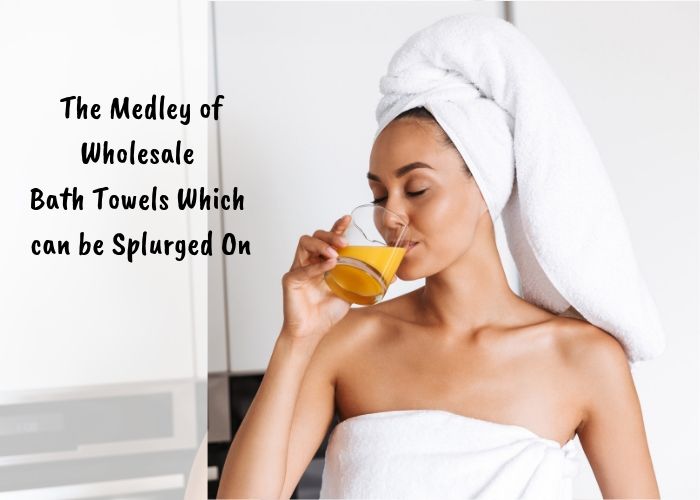 Just like the outfits you buy to add poise to the wardrobe and your style quotient, having the best bath towels is also very important.   Be it to get the bets post shower feel, or add vibrancy to the washroom decor, the right set of towels is required, and this has become more of a fashion these days. The retail stores are getting spruced up with the best quality, and stylish wholesale bath towels and they come in a medley of designs, prints, sizes and fabrics.
The bath towels can be splurged on according to the purpose, are they to be used solely for the purpose of taking a shower or for home decor? Depending on the purpose and requirement, the beach towels can be bought.
Here are some of the occasions, for which you need to have the right bath towels.
The Home Decor Nuances
When it comes to adding the towels in your washroom, you must make sure that the towels complement the color of the walls. Get hold of the singled colored towels if you have a jazzed up home interior to get the right contrast, and if the walls are painted in light shades, settle down for the printed and patterned towels.  This way, you can spruce up the interior look of the washroom, and on a whole get a very modish vibes for the interior.
The Beach Fun
When it comes to heading to the beach in summer, you need to have the best looking beach bath towels. They must come in fun filled designs and styles, be it the wrapped ones for the kids, the floral patterns for ladies or the bath towels embossed with sports images for the men. The towels at the beach should come in a variety of prints, and if possible get the ones which come imprinted with texts, reflecting different messages and ideas.
Comfortable Shower Experience
When it comes to using the towels only for a comfortable bathing experience, you need to have the towels which comes in comfortable fabrics, absorbing sweat and moisture quickly. This towel should   come in high quality materials, so that they are durable with fade free finesse, worthy to be used again and again without getting distorted or damaged with excessive water or detergent application.
Recommended For You: Tips to Decorate your Bathroom with Wholesale Bath Towels