How Customization of Gym Towels can Serve Multiple Purposes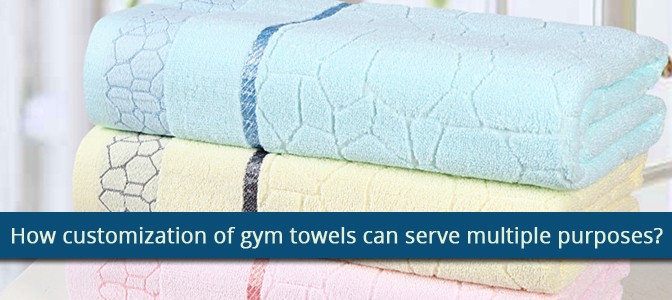 Gym towels differ from normal bath towels on many different levels. Manufacturers make custom gym towels keeping in mind all the different needs and requirements of different athletes, body builders and gym-goers.
Biggest Difference
People at gym sweats from hard workout; sweat rivers, might we say. And this is not the scenario for the rest of the people. Hence manufacturers use special dry-fit technology when producing custom gym towels. This adds and improves the winking properties of towels. The fabrics absorb sweat much quicker and dry up by evaporating the moisture equally efficiently. This leaves the towel back fresh and non-smelly, to an extent, in no time.
Why 'Custom'?
You might be wondering why it is being called 'custom gym towels'. There exist many different types of towels that meet specific needs of different people. Of those types, only few have a customization option, including the gym towels; for others don't really need it. So why manufacturers and suppliers offer customization options with gym towels-Promotion- gym towels have proved to be a better mean of promoting all fitness related brands, products and services. Thousands of businesses use this marketing strategy efficiently and get fulfilling result. For this reason manufacturers offer customization options in gym towels bulk.
Texts and Designs
Texts and other graphics on gym towels can be a better source of motivation, if used thoughtfully. Many gym owners understand this and they order bulk of custom gym towels with inspirational and motivating texts and graphics for their members. And this has yield good result; people love it!
Break from old Ones
Back in the days, the varieties in towel industry were restricted. Today, the fact that manufacturers are offering towels specifically tailored for gym-goers, should be sufficient enough to show the varieties that are available today in the market. Lots of people needed a break from the same old looking white towels; especially the youngsters, whose craving for fancy, unique and stylish items has open this new gate of customization in the towel industry.
Extent of Customization
The extent that one can customize their gym towels bulk depends from manufacturers to manufacturers. Some offer just the customization of color, while others the size and pattern. But big players in this industry offer lots of options, right from customization of style, color, size and pattern to fabric material, fabric GSM and packaging.
So contact such top players who offer all the possible customization options and order your own bulk of custom gym towels carefully.