Different Types Of Towels That Retailers Should Invest In This Year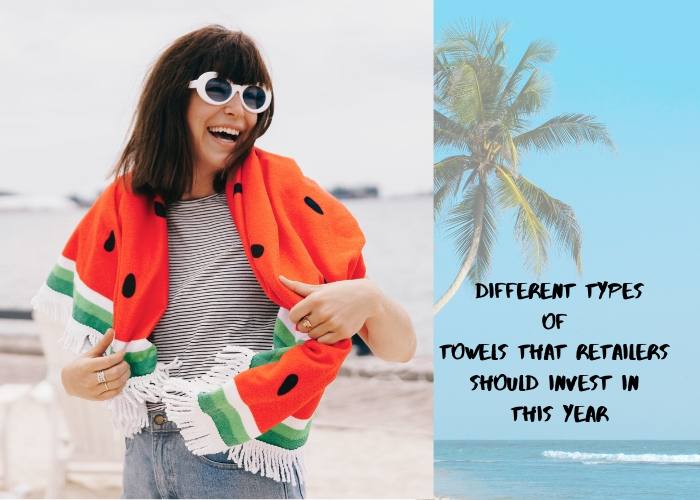 A woman definitely needs different types of towels for all her bathing and vanity needs. The It includes unique pieces like a wash cloth, hand towel, face towel , bath towel and even bath sheets. Not only this, the demand for trendy beach towels are also unending. Therefore owing to the specialized needs of the customers, custom towel manufacturers have come up with a collection of unique pieces you can have a look at.
The quality towel pieces are made with using organic cotton fibers which renders the final yield safe and long lasting as well. Since these towels are specifically designed for women , you can have a look through the large array of trendy prints which are worth the bulk investment. Meanwhile read on the blog below to know more about the towel fabric types that you should look out for.
Pima Cotton
Pima Cotton is the higher end version of cotton fabric that has extra long fibers which is better than the conventional cotton types. It has a reputation for producing smooth fabric that is soft to touch, highly absorbent and durable as well. Pima cotton sheets are extremely breathable in nature as well hence a perfect choice when it comes to producing quality towel pieces for women, especially for vanity purposes.
Egyptian cotton
Some of the prominent features of Egyptian cotton like softness, strength and superior fabric built makes it the world's most finest cotton type. These are grown organically hence perfect for making quality towels specifically for women. The length of the fiber makes it possible to create the finest of yarns without compromising on the strength of the yarn. Similarly, the strength of the yarn also makes it possible to create stronger fabrics which can withstand all types of stress.
Turkish Cotton
The Turkish cotton yarn produces a quick drying fabric sheet which is perfect for its quick drying abilities. One of the most unique feature of Turkish towel is that it pushes the water away from the skin instead of absorbing it into itself which can otherwise loosen the yarn. Not only this, the Turkish variants don't look like a typical towel hence quite versatile in nature as it can be used for a number of different purposes.
Bamboo fabric
The bamboo fiber is a natural textile which is made from the pulp of bamboo grass. Bamboo is considered to be one of the sustainable plants as it grows quickly and does not require chemicals or too much water for its nutritional needs. Not only this, each part of the plant can be used for different purposes. The fiber extracted from the bamboo plant is extremely sturdy in nature and can be used to make hand towels, bath sheets, beach towels , etc. The fiber derived from the plant is also highly absorbent in nature and the yarn is extremely strong hence does not pill with continuous usage.
Business owners who want to include quality towel pieces in their store can get in touch with one of the popular bath & beach towel manufacturers USA. All you need to do is look through the assemblage and select the towel pieces that will appeal to your wide customer base. After doing so , state the bulk needs by dropping a mail to the help team.