4 Popular Beach Towels for A Day Out to The Beach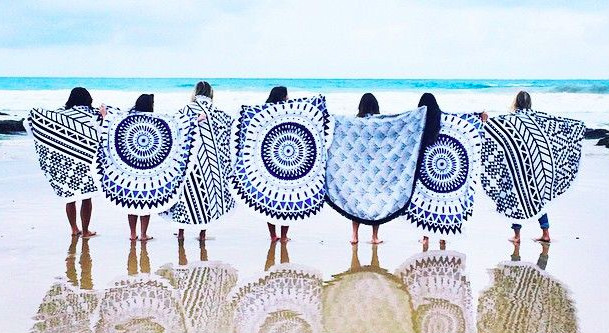 There is no soul on this planet who doesn't like to have a good time on the beach. Nope, there is none! Summer is here and a trip down to the beach is necessary. But before you pack you things, give this article a read. Swimwear is pivotal when going for the swim, but so are towels. Since we forget to pay attention to them, whatever reason it might be here is a list of four towels that is a must this summer. Give them a read before you head out.Manufacturers have bulk beach towels too that retort to the featured list.
The Round One
With a surge in their popularity over the years, round beach towels have become extremely popular. Unlike the other variations, round towels are bigger in their circumference, which means they can accommodate more than the others. Their seemingly different shape from the other beachgoers instantly adds to your appeal when you take it out and spread it out on the sandy shores.
The One Filled with a Single Color
These towels usually come with a single color i.e. they are in mono color display. Common and widely in use, single color towels make more trips to the beach than any other towels under the same category. Red, blue, yellow, green, orange and the list can go on. Added perks, if you pick one that is in a bright shade, you might just get the perfect beach picture as well.
The Printed One
From coconut trees to palm beaches, the printed ones usually leave out none. They are known for their fun element and are more sought after amongst the young crowds. For the ones you are more daring in their approach, bold slogans and sexy patterns can also make the display to raise some eyebrows on the beach. In short, they are the perfect artistic capture you can get this summer.
The Oversized One
The oversized one has a few perks to offer. First, it is huge and fits the entire posse. Second, you can easily lie on it without getting sand in your clothes. Third, it is huge. So making good use of it is only but very suggestive. They come in a variety of shades and patterns, for instance, the striped towel is very popular at this moment. Thus, make your time on the beach worthwhile.
Surprised that there are actually so many types of beach towels? Well, now that you know, make wise use of the information acquired. Pick the one that you like the most from the closets retailers.
For the retailers, you all can make a purchase of bulk beach towels from the manufacturers. Register with them today and get attractive offers on the price.