3 Types of Must Have Prints on Beach Towels for Kids!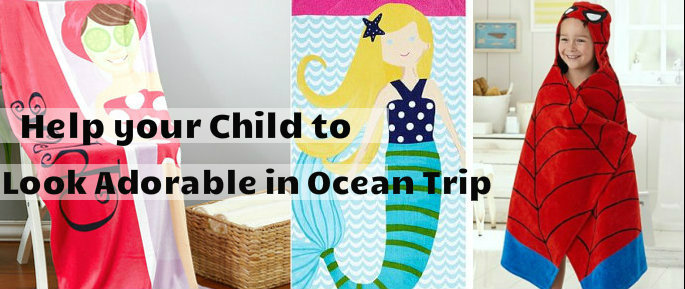 How can You help your Child look Absolutely Adorable when making the Next Trip to the Ocean?
Well, wrap them in a cute towel. Even if it sounds easy, finding the perfect beach towel for kids is not easy. You cannot really pick one judging it on its look. The comfort it provides and its ability to absorb water is very important. The size also matters! While an oversized towel will contribute little to their ease, a small towel is well, just not practical.
Hence, keeping all of this in mind, and how making a fashionable appearance is a must, as you would definitely want to post some pictures on the social media, here is a list of three types of towels that every child should have when going to the beach.
The Classic Beach Towel
The red, blue, pink, green and many other are like the staple for beach. The wholesale kids beach towels as available with many top manufacturers are crafted with the finest quality materials which not only lend a soft touch against the skin but also soaks water, thus drying off with ease. These classic beach towels, as they have been a favourite for a long time, are practical and great for the shutterbug as well. You can go for any shade that makes your little one satisfied and content.
The Hooded Beach Towel
New entry in the category, hooded towels has become a hot favourite, for both the mother and the kid. Looking past the fact that they come in a variety of shades, textures and patterns, which honestly speaking is wide, these are super comfy and relaxing. They feature in shapes of different animals which makes them popular amongst the tots. From frogs to bunnies, dogs to monkeys, these towels add fun and excitement to the time spend on the sandy shores. And also, they are great to pose in too!
The Character Beach Towel
Your kid might be a fan of Dexter or maybe Ben 10. Pokémon might grab his attraction or maybe a classic Phineas and Ferb might inspire him. Whatever cartoon his is obsessed with, you can actually surprise him with the best towels featuring a plethora of cartoon characters. Camera-friendly and adorable to look at, these character towels will only add to the delight of your kids, which surely they will remember for the rest of their lives!
Thus, make beach time memorable for your child with wholesale kids beach towels, accessible with prominent manufacturers. These towels can be bought by retailers or store owners who are looking to revamp their collection. Discounts are available when bulk order is placed.